If you own an IridiumGo device and you have a DATA subscription, you can use the Skipperblogs' IridiumGo tracking.
You will find the IridiumGo app setup instruction on this page.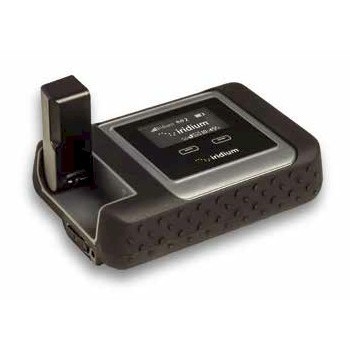 How does the tracking works ?
The IridiumGo device has a tracking function that allows you to automatically or manually send your location to an email address or mobile phone number. Either you configure the device to send your position at regular intervals or you trigger the sending of your position yourself. Theses function are respectively called Track and QuickGPS in the IridiumGo application.

Tracking configuration on Skipperblogs
Before setting up tracking, your subscription and Iridium line must be activated. Because you will need to enter your phone number that is only assigned to the activation of your Iridium subscription.
To enable and configure the IridiumGo tracking, go on the page AdministrationTracking IridiumGo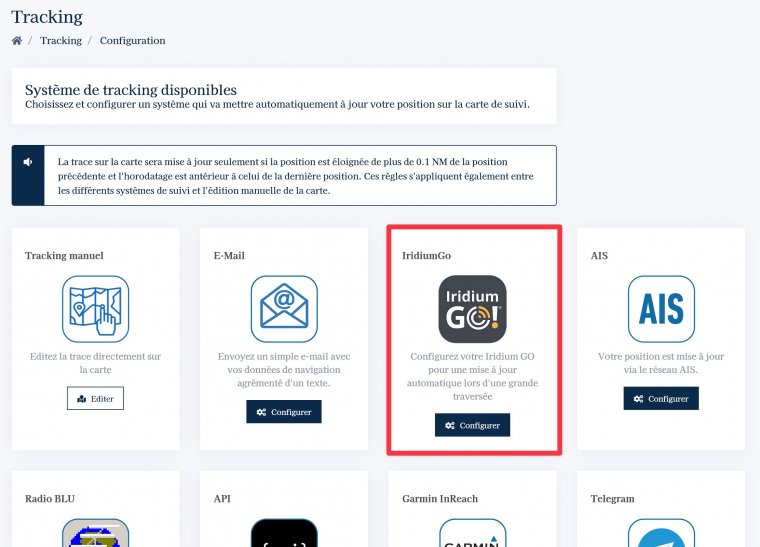 On the IridiumGo tracking configuration page, enter your Iridium telephone number composed of 12 digits and starting with 8816XXXXXXXX.

Then click on Enable tracking button to save the settings and enable the tracking.

Configuration of your IridiumGo
We assume that your Iridium Go device is already configured and paired to a phone or tablet. If not, please refer to your device's manual.
Switch on your IridiumGo device. Connect your Android or iOS device to the IridiumGo wifi hotspot. Open the IridiumGo application on your iOS or Android device; the default username/password to access your IridiumGo configuration is guest/guest .

Once connected, go to SettingsTracking.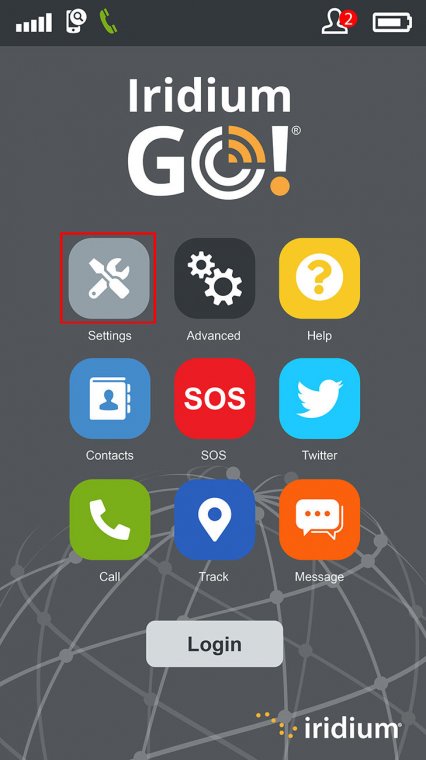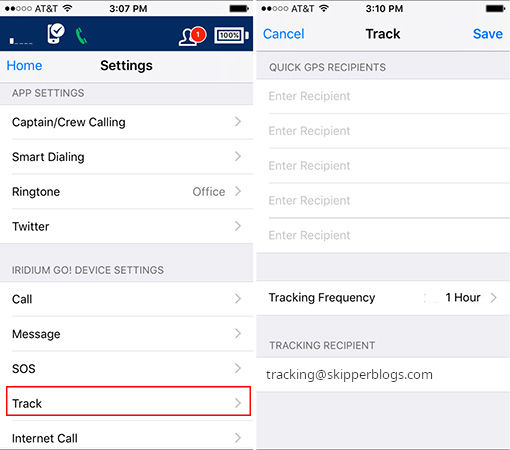 On the Tracking configuration page, the five first inputs are the QuickGPS recipients. If you want to use the QuickGPS function with Skipperblogs, enter tracking@skipperblogs.com as one of the recipient. You can set other E-mail addresses or mobile phone numbers. Each time you manually send a QuickGPS, Skipperblogs and all the recipient will receive your position,

The lower part contains two settings for the automatic tracking. Choose Tracking requency to set at which interval your position will be sent. IridiumGo allow only one Tracking reccipient for the automatic tracking. Enter tracking@skipperblogs.com here if you want to use this function with Skipperblogs. Click on Save on the top right corner to save the new settings. We recommend to set the Tracking requency to 1 hour or more.

Send your position automatically

If a Tracking recipient as been set, your device will automatically send your position. You have nothing to do but leave your Iridium GO! switched on under a clear sky.
Send your position manually (QuickGPS)
To manualy send your position, open your IridiumGo application and under Track send your position. You can also send your position directly from your device (wihout the need of an Android/iOS phone paired) by browsing the QuickGPS on the IridiumGo menu.

What is the update frequency ?
Every 60 minutes the Skipperblogs tracking system will fetch all the message your Iridium has sent and will update your position accordingly.